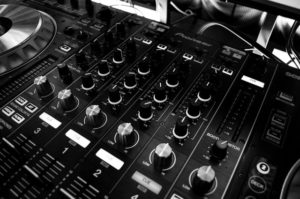 As you definitely know it, hiring the perfect DJ for your Metro Detroit wedding is really, really important. Not only do you want the music to be excellently mixed, but you also want a DJ that's reliable, professional, talented, and, last, but definitely not least, someone who's on the same page with you in terms of style and approach.
So, what are some of the less common, but definitely hugely important questions you should ask your wedding DJ when you're interviewing them? Read on to find out more.
• When should you book them? If you're interviewing multiple DJs, you might want to take a bit of time to take the notes and analyze which one is your best option. However, please keep in mind that very popular DJs may have to be booked well in advance – so make sure you ask each of them when is the latest date at which you can make the final booking to make sure they're available for your Big Day.
• What is their policy on breaks? DJs are only humans – so they might have to take a couple of breaks here and then. Ask them about this – and ask them about their policy on it. Will they leave music playing in the background during the breaks? Do they take the breaks when everyone else is eating? Ask these questions to make sure you're on the same page in terms of day-of coordination.
• What is the latest date to submit your playlist, the list of songs to not play, and all of the other event details? Again, your DJ may need a bit of a heads-up to prepare your wedding – and this may vary from one specialist to another. Ask them and make sure to send out the lists in due time – it will be better for you and for your DJ as well.
• How long will it take for them to set up the equipment? You need to know this so that you properly include it in your day-of schedule. It depends not only from one DJ to the other, but also from one venue to another – so it's quite important that you discuss this with your DJ.
Still searching for the perfect wedding DJ in the Metro Detroit area? You should contact Daryl Scott at Memory Maker DJs – we're here to make your entire Big Day feel absolutely awesome!