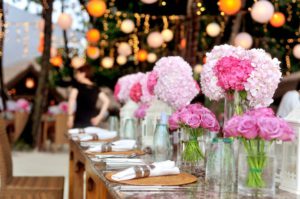 Weddings are filled with magical micro-moments – from the moment you wake up in the morning and start getting ready to the moment you bid your final farewell and head off into the sunset with your significant other.
Of course, you want every single one of these special moments to be filled with pure beauty, romantic notes, and, probably most importantly, you want these moments to be a real reflection of who you are – as individuals and as a couple.
For instance, if you are country music fans, you should definitely bring this into some of the most important moments of the Big Day – and your wedding processional is definitely among them.
• Kenny Chesney, You Had Me from Hello. Probably one of the most well-known country songs, this tune is perfect for the couple who has a love at first sight story behind them. The lyrics, the music, the rhythm of this song – they are all about love, passion, and commitment. We bet every single guest will love it, even if they are not actual country music fans!
• Tanya Tucker, Baby I'm Yours. Lovely and positive, this tune has the kind of youthfulness to it that will remind everyone how young your love story is and how many amazing things you can still do together. Pick this song if you want to shout your love out to the world and show everyone just how immensely you love each other.
• Paul Brandt, I Do. Clearly, this song is all about weddings. If you want your wedding processional to really show your feelings and to be 100% fitted for the moment, this song is exactly what you are looking for. Sweet and deeply romantic, this tune will embrace you and your guests, creating an unforgettable atmosphere everyone will truly love.
• Shania Twain, When You Kiss Me. She is one of the most popular voices in the country music industry – and although this particular song is not as Shania Twain famous as others signed by her (e.g. "You're Still the One"), it is most definitely extremely appropriate for the moment. You will love walking down the aisle on this!
Looking for a fantastic wedding DJ in the Metro Detroit area? Contact Daryl Scott at Memory Maker DJs and allow us to be the ones who entertain you and your guests – you will never regret your choice!