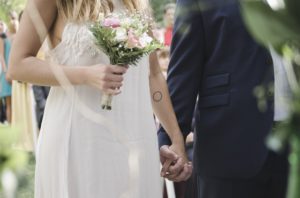 There's nothing quite as romantic and touchy as a Michigan wedding ceremony – and when it's your wedding ceremony that you are planning, you want to make sure every single element about it is perfect.
The MUSIC you play on the background of the ceremony is, of course, one of the single most important elements.
What are some of the most popular wedding processional songs you could choose for your own Big Day? Read on and find out more.
• Alan Silvestri, Forrest Gump Theme. Although this is not specifically a love song, it's really one of the best modern compositions to be used for a romantic wedding processional. The song seems to tell a wonderful story – and that is precisely what you are celebrating at your wedding, right? If you don't know this, give it a listen – we guarantee it will make you fall in love with it.
• Kodaline, The One. A sweet, indie song perfect for a unique, quirky couple's wedding. If you're not picking this for your First Dance, DO consider it for your wedding processional at least. It's truly a wonderful song, complemented by great lyrics and a beautiful, emotional vibe.
• Sigur Ros, Hoppippolla. Chances are not many people at your wedding will know the lyrics to this Icelandic song. But the meaningfulness behind the lyrics (once you check out their translation) will definitely make you cry. The title of the song is an abbreviation from the Icelandic for "hopping into puddles"), and the beauty of it lies in the way it tells a story you can understand, even when you don't know the language. Romantic, beautiful, and truly emotional, it's just the kind of "epic" tune you need for a wedding ceremony processional EVERYONE will always remember.
• Ed Sheeran, Perfect. Probably one of the most famous love song creators of our days, Ed Sheeran has a lot of amazing music you can "steal" inspiration from for your wedding. "Perfect" may not be as famous as his other songs, but it's truly ideal for a wedding ceremony filled with romance and uniqueness. Amazing tune!
Looking for the best wedding DJ in the Metro Detroit area, Michigan? Contact Memory Maker DJs and allow us to be the ones who enchant you and your wedding guests with the best music there is! Contact us and you will NEVER regret hiring us!