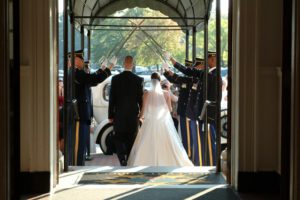 Every single song at your wedding should be well-chosen to reflect your love story and personality. Of course, this includes all the ceremony songs as well – but have you considered your playlist for the postlude as well, the moment the guests will leave the ceremony and head into the Cocktail Hour? If not, we have some tips for you – so read on and find out more.
• Dirty Dancing theme, I've Had the Time of My Life. This is a true classic every single person at your wedding will recognize. And it's more than suitable for the moment in terms of lyrics too – because, after all, you did have the time of your life! Plus, this song is great if you want to boost your guests' party mood with a song that's neither mellow, nor too energizing.
• Yiurma, A River Flows in You. Probably one of the most popular instrumental songs created in the last decades, this is a song that will sensitize your guests and make them feel super-romantic. There's something almost magical about this tune – and that is precisely why it's so suitable for a wedding ceremony postlude.
• Kid Rock, All Summer Long. Looking for a less conventional, but really fun way to end your summer ceremony? This Kid Rock tune will surely bring a smile on everyone's faces – and if you two are big fans of the genre, this makes for an amazing statement song. People will just love the uniqueness and energy this song brings!
Looking for a reliable, talented and truly professional wedding DJ in the Metro Detroit area? Contact Memory Maker DJs and allow Daryl Scott to be the one who will entertain you and your guests on what's meant to be one of the most memorable days of your life!