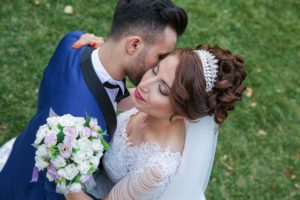 No other wedding moment will be as charged with elegance and beauty as your First Dance will be. Of course, your wedding processional, your vows, and pretty much every other minute of your Big Day in Detroit will be amazing, emotional, and absolutely stunning – but your First Dance will be magical.
Obviously, want this special moment to be accompanied by a song that's really suitable for you, your personality and the things that define you – and if country music is one of your favorites, you should definitely consider including a country song into your First Dance moment.
What are some of the very best country songs for your First Dance? Here are some suggestions for you:
• Jim Brickman and Martina McBride, Valentine. OK, this is the absolute perfect song for a Valentine's Day wedding, but trust us: it can work wonderfully for every other wedding date. Lovely and romantic, beautifully written and amazingly sang, this tune will stick to your guests' memory so powerfully that they will definitely ask you what it was (if they don't know it already, of course).
• Shania Twain, You're Still the One. Few modern country artists made it so big in the mainstream as Shania Twain did in the 90s and early 2000s. She's still amazing and she's still one of the most acclaimed singers in the genre – so why not take one of her most romantic (and most popular) songs and use it for your First Dance? This one's guaranteed to be recognized by everyone at your wedding!
• Garth Brooks., Shameless. If you don't know the song already, its title might put you off (especially if you want a traditional wedding First Dance that's grandma-approved). However, the truth is that this is one of the most uniquely romantic songs in the entire country music industry. Really amazing lyrics, a truly haunting voice, and a melody that sticks to your heart and makes it melt – the perfect combination for the kind of First Dance people will not only love, but also REMEMBER for a long time from now on.
Looking for a dedicated, professional, attentive wedding DJ in the Metro Detroit area? Contact Memory Maker DJs and allow us to be the ones who delight you and your guests with the best music ever. Contact us and your wedding is guaranteed to be REALLY well entertained!