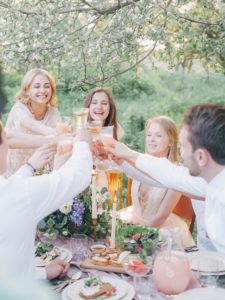 Your rehearsal dinner in Detroit is very important for the success of your wedding. First of all, it will allow you to plan the last details and make sure everything's perfect on the Big Day. But maybe even more than that, it will allow you to set the right mood for the wedding, and make sure your wedding party members are familiar with each other.
Naturally, music is important for this rehearsal dinner just as much as it is for the wedding. But what songs to play on the background as everyone connects to each other? We have some suggestions for you – so read on and find out more.
• The Rolling Stones, She Smiled Sweetly. This is an excellent song for anyone who's a fan of rock music. It's not very "metal", but sweet and vibrant – which makes it perfect for a laid-back night spent together with those whom you love the most: your close friends and your family.
• Barry Harris, One Down. Want to add a touch of humor to your rehearsal dinner? This song is just perfect, then! If you don't know it already, give it a search and listen to it – it's a precious tune that's simply bound to make those who listen to it smile.
• Lijadu Sisters, Come On Home. A song not many will actually recognize, but everyone will absolutely love when they listen to it. The sweetness of it, the relaxed vibe, the beautiful lyrics – everything about it calls for a romantic, quiet, yet very pleasing evening.
• The Cure, Friday I'm In Love. This song is so perfect for a wedding rehearsal dinner! It's got the right vibe and energy to it, so it's bound to make people feel great. But even more than that, it's so contextually fitting for a rehearsal dinner that it will definitely make everyone smile. Think of it: if you're like most couples, your wedding's taking place on a Saturday and your rehearsal day on a Friday, which makes this song very true in the very literal sense of the word. Nice pun, right?
Looking for a dedicated, professional wedding DJ in the Metro Detroit area? Contact Daryl Scott at Memory Maker DJs and hire us if you want your Big Day to be really unforgettable! Contact us, hire us for your wedding, and we guarantee you will never regret your choice!