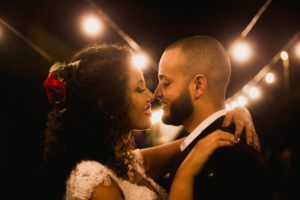 Love makes the world go round – and that's something we will always stand by. That's why we love mixing music at weddings so much, and that's why we always strive for perfect services for every single couple who chooses to work with us.
We believe every all brides and grooms are unique in their own way. And while every wedding is special through its décor, theme, music, and food, one element always comes back to the surface to connect everything in a beautiful, harmonious way: romantic touches. They might be romantic in a traditional way, or romantic in a quirky way – but they are always there, emotional and unforgettable.
How to plan a genuinely romantic Big Day and allow your true selves to shine through on this special occasion? We have some tips for you – continue reading to find out more.
• The ceremony is key. This is why the entire wedding is happening – so you want to concentrate your romantic "impulses" here especially. The moment you walk down the aisle should be perfect – from the dress you wear to the backdrop behind the altar and, of course, the music that embraces you. This is your moment to shine – make it special and romantic by choosing a song that represents you and your love story.
• The First Dance isn't always about the grandeur. Sometimes, it's about the small gestures – such as the way the groom leans his head on his bride, almost in tears. Or the moment the chorus of the song they chose for this moment sends shivers of emotion down their spine, touching the hearts of those who witness the dance. Plan for a genuine and authentic First Dance – not necessarily one that's "textbook perfect".
• Don't forget about the cake. To many people, the Cutting of the Cake is just a means to an end (because, well, we all love dessert, right?). The entire moment bears with it so much symbolism though! Make it a grand moment – the kind that not only opens everyone's appetite for cake, but also for love, understanding, and positive vibes. Yes, a good, energizing and romantic song can definitely help with all of this.
Looking for someone who is truly experienced in the art of making people actually want to dance at weddings in the Metro Detroit area? Contact Daryl Scott at Memory Maker DJs and allow us to be the ones who delight everyone with the BEST music there is!