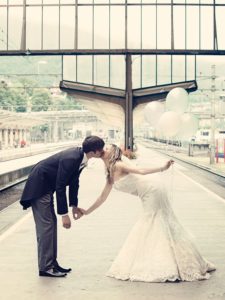 Planning your wedding in 2018? Congratulations! We're more than certain you're on a rollercoaster of emotions right now – but in between the dress, the venue, and the catering, you should definitely make sure to plan your wedding music in a way that will ensure everyone's entertainment too.
So, what are the absolute DO's of 2018 wedding music? We've gathered some crucial rules right below – so read on and find out more.
• Create a good balance between the slow songs and the energizing ones – both are important. Slow songs are important because some of your guests may not be able to or want to dance very fast. Moreover, many guests prefer to dance only with their partners – so slow songs are perfect for them. Don't forget to include the more energizing songs in the playlist too – they are very important for a fun, memorable atmosphere!
• Line dances? Perhaps skip them altogether (or at least choose songs that haven't been played at every wedding since 1995). People have heard and danced on these before at least a hundred times – so there's a pretty big chance they don't find them as fun anymore…
• DO plan your playlist. If you have songs you want to listen at your wedding, if you want specific songs for specific wedding moments, if you have songs you absolutely DON'T want to listen at your wedding – then, by all means, do share these with your wedding DJ. It will help them mix music that's truly suitable for you!
Looking for a brilliant wedding DJ in the Metro Detroit area? Contact Daryl Scott at Memory Maker DJs and work with the best of the best! With us on your side, your wedding is bound to be nothing less than absolutely UNFORGETTABLY FUN!