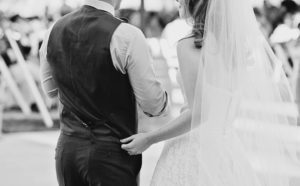 Your wedding music is crucial for setting the right tone at your Big Day in the Metro Detroit area. After all, the music will not only entertain all of your guests, but it will also mark some of the most magical moments during this special event – so it's really important that your wedding playlist suits your overall style (and the kind of music you like, obviously).
How to create a wedding music playlist based on your style? We have some tips for you – continue reading if you want to learn more.
• First Dance. This is by far one of the most important songs you will have to pick for your wedding playlist. If you love big rock bands and if you want to have the same large stadium concert vibes brought into this special moment, choose a song like "I Don't Want to Miss a Thing" by Aerosmith. If you want something less mainstream, a tune like Kodaline's "The One" will surely suit you. And if you love Top 40s, popular music, try a song such as Adele's "Make You Feel My Love".
• Bouquet Toss. Some couples choose not to have this at their wedding, but if you want to include it in the Big Day, do it your style. For instance, you could choose "Pretty Young Thing" by Michael Jackson (if you love the classics), Meghan Trainor's "Dear Future Husband" (if you like a good indie song and the uniqueness that comes with it), or Beyonce's "Put a Ring on It" if you love your pop music.
• Last Dance. This is almost as important as the First Dance, as it will wrap up the Big Day – you need to choose an uplifting and emotional song for the moment, because your guests will stick around for some more partying for at least 30 more minutes. Some examples of what you could include here are "Don't Stop Believin'" by Journey (for the big concert fans of you), Ray LaMontagne's "You Are the Best Thing" (for those of you who like the less mainstream tunes), or Walk the Moon's "Shut Up and Dance" (if you love the vibes of pop music).
Still searching for the right wedding DJ in the Metro Detroit area? Contact Daryl Scott at Memory Maker DJs and hire us if you want your wedding music to be flawlessly brought together in a way that will make everyone at your wedding want to dance!