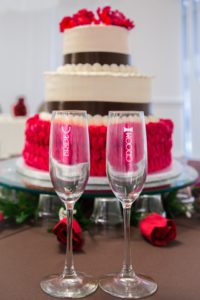 Every wedding is filled with emotion and beauty – and your wedding in the Metro Detroit area will make no exception. Of course, the dancing, the food, the ambiance – they will all matter tremendously in creating the kind of wedding nobody will ever forget about.
Among the things you should definitely consider for your wedding the special moments of the reception play a pretty important role – and the Cutting of the Cake is definitely among these special moments.
What are some songs you could choose for your Cutting of the Cake moment? We have gathered some ideas – so read on and find out more.
• American Authors, Best Day of My Life. This particular tune has so much energy and so much positivity to it that it really deserves to land on your wedding playlist – especially if you're more into indie music and rock tunes. Play it for your Cutting of the Cake and we guarantee everyone will smile hearing it (and seeing you finally slice into that delicious treat, of course!).
• Ray Lamontagne, You Are the Best Thing. If you want a romantic song for your super-sweet Cutting of the Cake moment, this is the one. Beautiful, with lyrics worthy of your love story, and with a serious amount of cuteness to it, this song is bound to complement your big moment and make the two of you feel really amazing.
• Blake Shelton, Honey Bee. Do you like country music? If you're more into the modern country music, Blake Shelton has his fair share of wedding-worthy songs – and "Honey Bee" is a sweet, sweet option for your Cutting of the Cake moment. It's funny, cute, and really loveable – so this song will be highly appreciated by everyone at your wedding, even people who are not necessarily fans of the genre.
• Archies, Sugar, Sugar. Well, the title of the song is definitely sweet – and the tune itself does live up to its title too. If you want an energizing, nice song for your Cutting of the Cake moment, this is a really great option!
Looking for a brilliant wedding DJ in the Metro Detroit area? Contact Memory Maker DJs right now and hire us if you want your wedding music to make your Big Day feel even more unforgettable and charged with beautiful emotions! Contact us and you won't regret it!