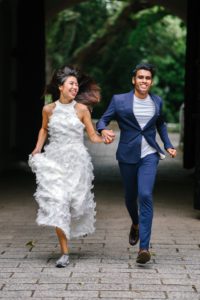 If you are like every other couple getting married in the Metro Detroit area, you want nothing more than to have the kind of wedding everyone will remember many years from now on.
All details matter when it comes to creating the perfect event, sure. The dress, the suit, the flowers, the cake, the late-night snack, the bridesmaids and the groomsmen – they will all contribute to creating a really special event.
At the same time though, it is very important to acknowledge that your wedding entertainment lies at the very foundation of your wedding success.
What are the absolute essentials to remember for the perfect wedding entertainment? Read on and find out more.
• Know your guests. Of course, unless you're planning a very small wedding, it's quite impossible to know each guest up close and personal. However, you can always make some assumptions – for instance, your grandma may not find Rihanna's "Work Work Work" song a very suitable one. Likewise, your friends may not want to only listen to oldies but goldies (they're great, nothing is that great when it's in excess, right?).
• Think of everyone. Let's face it: no matter how amazing the wedding and the DJ, no matter how catchy the music or how energizing most of the guests are, some of your wedding guests will just not be able to dance for too much. That's OK, why not provide them with something fun to do too? A lounge area with board games and drinks is the simplest solution – but if you want to enchant everyone with something special, why not hire a stand-up comedian or a caricaturist? This will definitely put a huge smile on your guests' faces!
• Yes…everyone. It's perfectly acceptable not to invite children at the wedding. But if you DO have kids at the wedding, be sure they're entertained as well. A small table with coloring books and fun activities for them, a children's entertainer, or even simple tasks (like asking them to take pictures with single use cameras) – these things will keep the little ones happy and SAFE.
Looking for a brilliant wedding DJ in the Metro Detroit area? Contact Memory Maker DJs and let's talk about your wedding playlist! Contact us and allow us to help you and your guests have the time of your lives on the Big Day!