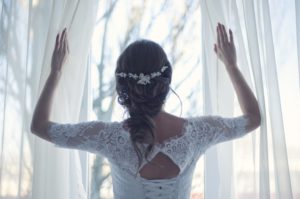 The morning of your wedding is bound to be a real rollercoaster of emotions. On the one hand excited, on the other hand stressed, you will definitely want to do something to ease your anxiety and make you feel energized and radiant for the moment you walk down the aisle.
Thankfully, there are plenty of things you can do about that – and music is, by far, one of the best ones. Take a look at our suggestions below and play these songs while getting ready with your bridesmaids – it will make for unforgettable moments!
• Fergie, Glamorous. This song may be more than one decade old, but it's still an excellent one for those special moments when you just want to pamper yourself and glam yourself up. Your wedding morning surely falls under that category!
• Billy Idol, White Wedding. The title of the song says it all – lovely, sweet, and really beautiful, the lyrics of this song will make you feel touched, emotional, and really ready to walk down the aisle. Excellent for those of you who want to add a romantic touch to your wedding morning!
• Beyonce, Love on Top. No "getting ready" session with your besties could ever be complete without the (musical) presence of the queen herself – Beyonce. Play this song and you will definitely charge your batteries for a day of pure emotion, love, hope, and memories that will last for a lifetime.
Have you hired the perfect wedding DJ yet? If you are still on the lookout, and if you want your wedding to take place in the Metro Detroit area? Be sure to contact Daryl Scott at Memory Maker DJs – you will be delighted with the services we offer so much that you will never regret hiring us!