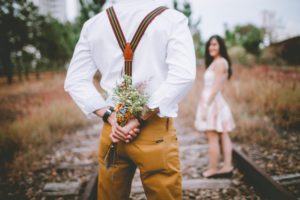 Every decade has its magic – and even if we don't realize it now, even the second decade of the 21st century is magical in its own way.
The 50s make no exception from the rule – they are unique and their music is just as special as the social changes that started to occur at the middle of the 20th century. No wonder so many of us are still very much fascinated with this decade – and no wonder so many people want to center their big life events around a theme that evokes the past in a very 50s style.
Given that music was a huge part of this decade, what songs would you play to a 50s-inspired wedding in the Metro Detroit area? We have some suggestions for you – so read on and find out more.
• Nat King Cole, The Very Thought of You. As one of the most popular voices of the decade, Nat King Cole shouldn't miss from your list of 50s music options. This song is sweet and romantic, infused with the innocence so specific of the decade, but also with the positivity and the "air of change" we have learned to love in this musical style. A truly great choice for your wedding!
• Valens Ritchie, Come On, Let's Go. Looking for a great party starter that would suit your 50s wedding theme? Valens Ritchie has it: if you don't know the song already, be sure to give it a chance because it's a real masterpiece of the decade. We love, love, love putting this on for a good party!
• Elvis Presley, I Want You, I Need You, I Love You. Smooth, romantic, unforgettable – there are many ways to describe Elvis' music, but one word really encompasses it all: "King". If you are looking for a romantic song and an iconic 50s voice, "I Want You, I Need You, I Love You" is just what you need.
• Bobby Freeman, Do You Want to Dance. A fun party song that will definitely get everyone going. Play it at the beginning of the dance party to break the ice and warm up people for the hours of fun ahead of everyone.
Looking for an excellent wedding DJ in the Metro Detroit area? Contact Daryl Scott at Memory maker DJs right now and we will make sure your wedding gets the entertainment it deserves!