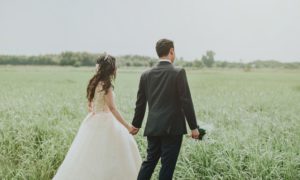 If you plan a wedding in 2019, you definitely want it to be timeless in every respect – you want for it to be the kind of event you will look back and still love no matter how much time goes by or how much trends change.
However, that doesn't mean you shouldn't include modern music in your wedding playlist – on the contrary, some of the popular songs of the year you got married in will add a dash of uniqueness to the entire "vibe" created at your wedding and it will help you set your love story in "time and space".
What are some of the very best songs for weddings in 2018? Here are some suggestions:
• Katy Perry, Chained to the Rhythm. This is the kind of party starter song every single guest is bound to love. It has such a good rhythm and energy to it that sitting nicely at your table while this plays in the background is almost impossible. The music will envelop everyone, drawing them to the dance floor to have some fun and create some amazing memories!
• Maroon 5, What Lovers Do (feat SZA). Maroon 5 knows how to create songs that are catchy and qualitative at the same time – and this one makes no exception. A little cheeky (but not cheeky enough to be tacky for a wedding) and very energizing, this song is great for many wedding moments (it can even be blended into a fun First Dance choreography!).
• Bleachers, Let's Get Married. We couldn't resist including this on our list – for reasons that are pretty obvious. This song has so, so much energy to it, and it is so, so amazingly well-written for a wedding that it would be a real pity not to consider it at least. You will LOVE it!
• Beyoncé, Die with You. This list couldn't have ended without Queen Bey on it. Yes, this song sounds sad and it kind of is – but in a deeply romantic way that actually goes well with weddings. You cannot but appreciate its beauty!
Looking for a talented and reliable wedding DJ in the Metro Detroit area? Contact Daryl Scott at Memory Maker DJs and allow us to be the ones who delight you and your guests with music that's downright amazing. Contact us and you won't regret your choice, we promise!